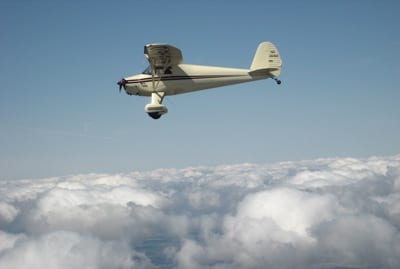 Photo by Steve Russell
The past several weeks have brought some great flying weather to northern Georgia, but unfortunately we haven't been able to take advantage of those precious flying days. Henry's mom or "Granny," as she is known in our house, has taken a turn for the worse. It's gardening season, and I know the last place she wishes to be is in a hospital with tubes and needles stuck in tender places.
As a result, quiet moments at home have become rare, and invigorating moments at the airport are nonexistent, but when circumstances have allowed I have found comfort and escape reading the online group affectionately known as the Luscombe List.
Our list is a prolific one, and thanks to some Internet-savvy founders, an old one. We discuss various topics of aviation importance: Imperial valves, Goodyear brake parts availability and the ever-trendy sagging Oleo spring saga. But we also share our lives, and like the soap operas of old, we are a family.
===> Posted on May 13, 2010 by Deb McFarland. One comment. © GAN 2010
---
As the Luscombe turns is a post from: Small Jet Charter
Related posts:
Charter a Small Jet Small jet charters are affordable and fun!…
Group "Outraged" Cost Analysis Applied To Flight Safety The Buffalo News printed Friday that the group, Families of…
Sharing information helps GA airports Airports often face similar problems relating to safety and security…
Related posts brought to you by Yet Another Related Posts Plugin.